Home
Useful Services
The Hamstery
New - Chat Forum!!
Guestbook
Links
Contact Me
---
!!!! NEW !!!! - The Oak Farm Roborovski Forum
In the Wild
-
as Pets
-
Handling
-
Entertaining
-
The Perfect Home
-
Feeding
Breeding Roborovskis
-
Colours
-
Sexing
-
Litter Development
-
Reintroducing
Available Babies
-
Current and Future Litters
- Babies In Their New Homes* Roborovskis Show Details, Schedules & Results* -
Show Standard
*
Coming soon
---
Development of babies in the nest
Once you have responsibly planned for a litter of babies and prepared the mother and father for their roles in the conception, birth and rearing of the litter, you can sit back and watch a miracle in your own home!
Anyone who has witnessed this wonderful event will agree with me when I say that watching and hearing the babies grow up into miniature adults is one of the best things you can be part of.
I hope you enjoy looking at the following 'Photo Diary' of a litter of seven beautiful babies which were born here in June 2008.
Please note that all of the photos are taken without disturbing the parents or the babies, and any close – up photos were taken using the zoom feature on the camera, not by getting close to the babies! It is very important not to disturb the parents as they will destroy or abandon the whole litter if they feel threatened!
Day of Birth – Tuesday 10th June 2008
'Louby', one of my Agoutis, gave birth to seven beautiful little pinkies sired by 'Change', also one of my Agoutis – this was very late in the evening and no photos were taken, so as not to disturb the new family.
Wednesday 11th June 2008
The babies are now just a few hours old and should be tucked away in a nice snug nest! Louby decided to have a more 'open plan' nest, which was why these photos were taken, as it was easy to get the photos without disturbing the parents or the babies! As you can see from the white milk bands on the babies, they are already being very well fed and looked after. The babies are born completely naked with transparent skin and their eyes still shut.
Sunday 15th June 2008 – Day 5
The babies are now five days old and the main difference is that they are much bigger. The skin is no longer transparent and everything looks more developed. The ears and claws can be easily seen, and the colour pigment is starting o show through too – you can clearly see the parts of the body which will be dark and the parts which will light.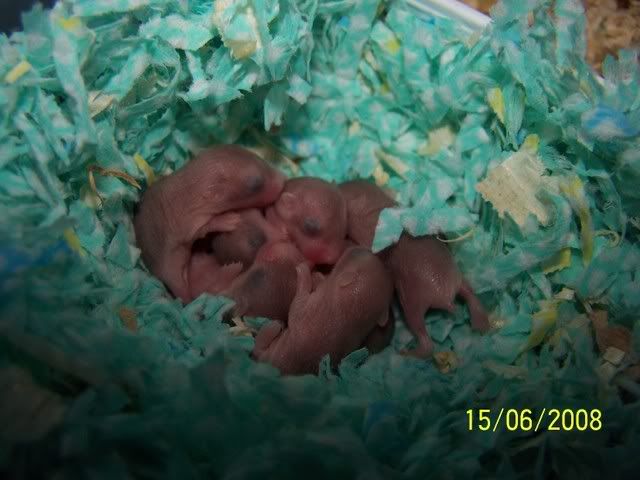 Wednesday 18th June 2008 – Day 8
The pups now have a very short covering of beautiful fur all over them, and are actually starting to look a little like miniature Robos now! They are very active by this time and are eating a lot of solids which their mother brings to them. They resemble miniature Hippos at this age!!
Saturday 21st June 2008 – Day 11
The little Hippos are now eleven days old and they have a lot more fur now. They will have already stated to escape the nest at this age, and will wander around the cage looking for food. Their eyes are due to open in the next couple days.
Monday 23rd June 2008 – Day 13
They are now almost two weeks old and are getting very big! They are now spending a lot of time out of the nest and they have their eyes fully open. It is now safe to handle them and begin taming them – the more you interact with them at this stage the tamer they will become, as they will get used to being handled. You can see the size difference between Mother and baby at this age: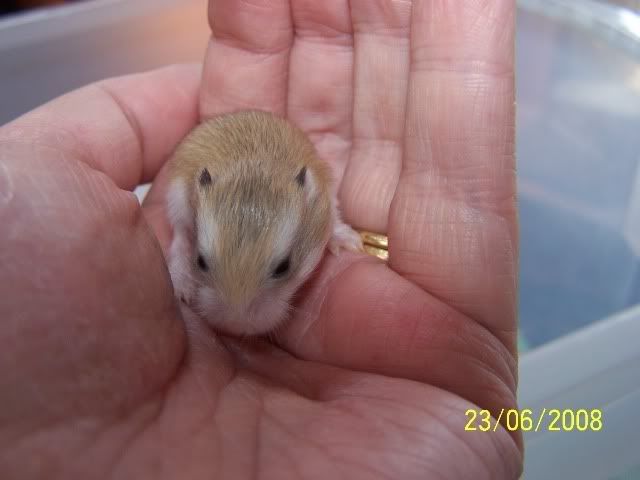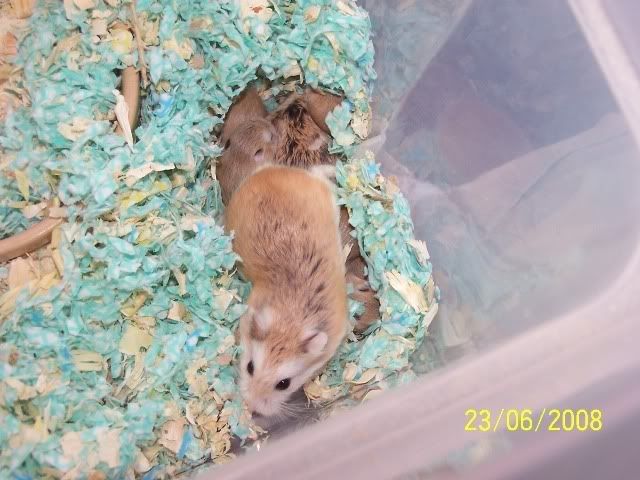 Monday 30th June 2008 – Day 20
The pups are now at their fluffy stage! They are now perfect miniature adults in everything except size, even their fur is adult sized, but they just need to grow into it! They are completely independent of their parents now and can be moved to a separate cage at twenty one days old if necessary, but they are absolutely fine with their parents for at least another week.
Friday 4th July – Day 24
They are now twenty four days old and the only thing they need to do now is grow! They should be given as much food as they will eat and many extras too. Their coat colour will darken over the next couple of months until they reach their adult colour.
They should be left with their parents, or at least their siblings, until day twenty eight when they will need to be split up into single sex groups. Once they are happily and healthily growing and gaining weight, and once you are able to sex them accurately it is time for them to go to their new homes. I usually rehome my babies at between six and eight weeks of age depending on each individual baby.
Back to Top